AffilBox plugin for WordPress
We've prepared a plug-in for your WordPress content management system that will make embedding codes on your site a breeze. You can download it HERE.
Before deploying the codes, create a subdomain for your commission program.
This will give you both a tracking and conversion code in the shape of your domain, and you will have a higher order tracking success rate.
Installation
Installing a plug-in in wordpress is like installing any other plugin in WordPress. Select Plugins → Plugin Installation from the menu. Under the heading, click Upload File. Select the downloaded file from the link above and click on Install. WordPress plugin will install itself and you just need to put Activate plugin.
Settings
In Settings → AffilBox you have the option to insert a tracking code that will appear in the footer of all pages. If you use the FAPI automated sales system, you can enter your login details here and the plugin will calculate the order amount itself and pass it to AffilBox.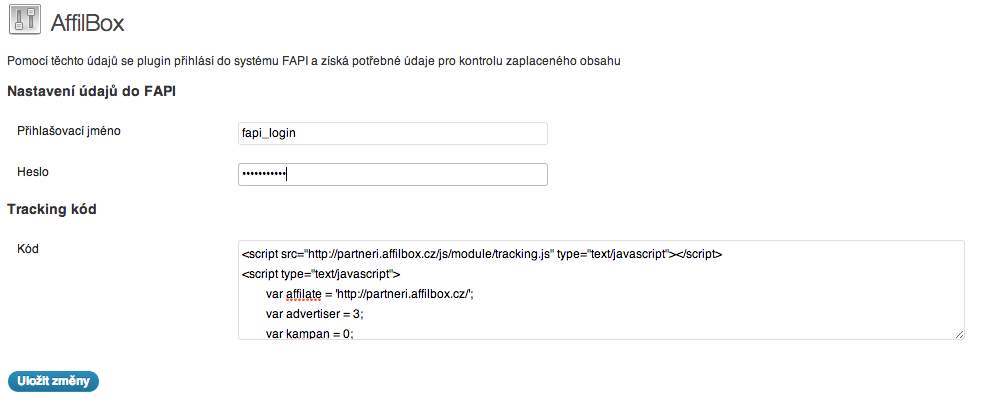 Inserting codes on the page
You can insert different codes for each page or post. So you can have different campaigns for different thank you pages. Just copy the conversion code from AffilBox and paste it into the appropriate box. If you want to insert a different tracking code on that page than on the rest of the site, there is a second box for that.
Where to find the codes
Click on Ad Campaigns in the left menu of your AffilBox license.
Expand your campaign and select Codes from the top menu: