Implementing AffilBox on Shoptet using an add-on
If your e-shop is running on Shoptet, you can now connect it to AffilBox very quickly. In cooperation with Shoptet we have prepared a comprehensive plugin that allows you to connect your e-shop with our affiliate software. And use all its advanced features – available in your Basic, Pro or Custom license.
So if you have a Pro version license and higher, you can enjoy direct linking without affiliate ID, commission categories, bonuses, more promotional channels, coupon tracking and other popular features.
Practice tip: In a situation where a product is listed in multiple categories in the e-shop, the Category Commissions by Category feature only ever takes into account 1 category and the one that is marked as Default in the product settings on the Shoptet side.
See the Shoptet interface:
How to do it
Before deploying the codes, create a subdomain for your commission program.
This will give you both a tracking and conversion code in the shape of your domain, and you will have a higher order tracking success rate.
Preferred Domain for Campaign
Next, set up a "Preferred Domain" for your Ad Campaign. This will always be taken as the base for your tracking and conversion codes and you will get 100% tracking performance even with ITP technology and its other variants.
This preferred domain can be found in the Advertising Campaigns section, through the three dots next to each campaign you will find the Edit item. At the bottom of the Settings tab you will find the Preferred Domain item. And here you select the custom domain you selected earlier.
How do I activate the add-on?
First, log in to your e-shop on shoptet.cz and also to your AffilBox license.
The add-on directly on Shoptet is used to generate a unique matching code, which you then use in your AffilBox license.
Order the AffilBox add-on on this page.
After activating it, you will receive a matching code. Copy it for use in the next step, which will already be in your AffilBox.
In your AffilBox administration, activate the Shoptet add-on in the Plugins section. See:

Detail of the Shoptet plugin on the AffilBox side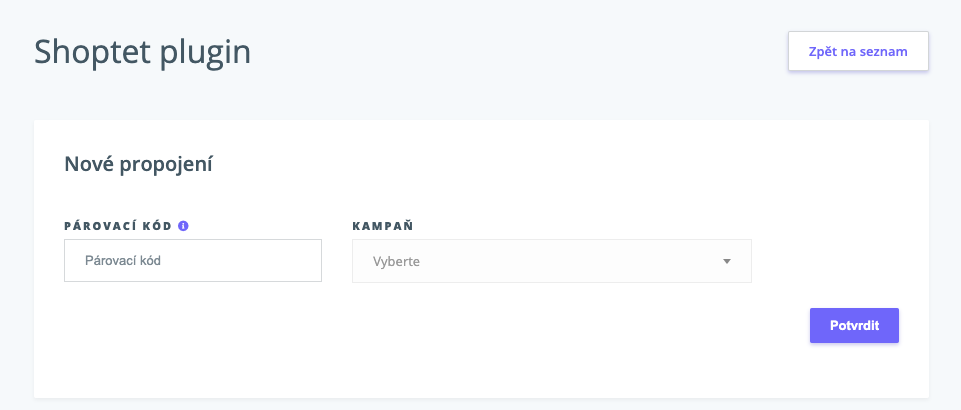 4. Then you're done and you can search for your affiliates (blog post) to promote your e-shop.
Always test
Done!
We are happy to test everything, or give advice, don't be afraid to get in touch!
Custom currencies in Shoptet
If you need to keep track of different currencies in AffilBox – for example, if you have e-shops in different countries, this is not a problem for connecting to Shoptet. In the conversion, we will also pass on the information in which currency the purchase was made.
To set up multiple currencies, you need to have the Currencies plugin activated in AffilBox. And in it, according to the international format (see ISO 4217 standard), fill in the designation of the entered currency, then convert to 1 CZK. Then the orders will be calculated correctly.